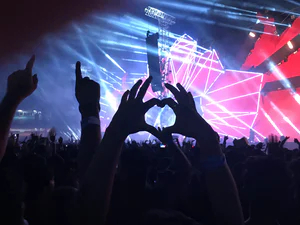 Top 10 legendary music venues in London
Calling all music lovers! If you want the most euphoric musical experience, you'll be spoiled for choice when it comes to all the live music venues on offer in London!
This incredible capital is home to some of the best and most legendary concert halls where everyone from 90s pop icons to classic 80s rock bands and underground indie bands would perform. Join us as we explore the best places you must visit on your next trip to London!
What started life as the mere Millennium Dome – often considered more of a political mess than anything of cultural significance – later became one of London's most famous and successful venues! Each season, this venue showcases some of the world's greatest artists and has since earned a reputation for hosting elaborate shows that draw large and eager crowds.
What makes the arena particularly engrossing is the fact that the entire experience is highly organized and streamlined. From the surprisingly fast ticket booking process to the quick and smooth transport connection, it's clear that the O2 has thought of everything.
This addition to our list of top 10 legendary music venues in London may come as a shock to many of you, mainly since Wembley is best known for all the famous football matches it hosts; however, there is more to this multi-faceted place than you might think.
Since 1972, Wembley Stadium has hosted some of the greatest most influential musicians. Even better, this iconic venue has also been used to hold exclusive historical events, including the 70th birthday of former South African President Nelson Mandela.e birthday concert. The King of Pop, Michael Jackson, holds the record for the most appearances at Wembley Stadium, having played there 15 times!
The Union Chapel Concert Hall not only hosts some of the greatest acts in music, but is also a functional and functioning church. An evening spent sitting on the benches, contemplating the delicate and colorful hues of the stained glass windows and the somewhat Gothic architecture, constitutes a unique musical experience.
Given the natural acoustics of this venue, it's the perfect place to indulge in slower musical genres. You will also notice that this building acts as a wonderful place of refuge in and amongst all the chaos of Upper Street in North London.
Now seems like the perfect time to look at a music venue that's a stark contrast to the last one. It's called the Underworld, and as the name suggests, you can expect an alternative, more grungy vibe that spawned some of the best, once smaller, underground rock bands of the 90s and early 2000s!
If you like more heavy metal and alt-rock styles of music then this is definitely the place for you. From the moment you step through the doors of the Underworld, expect to be surrounded by mosh pits, a ceiling covered in sweat, smoke, and your new favorite emo club that will have you jamming the night away.
Any quick Google search will prove that of all legendary music venues in London, the Roundhouse is by far one of the most famous – and for good reason! As soon as you enter this performing arts space, you will immediately be greeted by stunning iron columns, high ceilings and a unique approach to architecture in general.
This makes it the most epic venue that continues to bring together some of the best in the music industry. State-of-the-art audio systems that have been expertly designed throughout the building ensure that no matter where you sit, you have access to crisp sound from all your favorite artists.
If you're looking to start a conversation about internationally recognized music venues, then you'll want to make sure you bring up KOKO! This legendary theater has been made famous by all the renowned musicians who have graced its stage before.
Unfortunately, after suffering severe water damage, KOKO was almost completely closed. Fortunately, the powers that helped revive KOKO, and it has since been resurrected to its former glory with top billboard performers returning to the stage once again!
We wouldn't be doing this list justice if we didn't mention Victoria Park, especially for those of you who prefer a more outdoor music experience/festival vibe! This incredibly popular east London park is the perfect location as its greenery spans 213 acres and easily transforms into a stunning outdoor arena.
Since it is the perfect place to hang out in the summer and listen to your favorite music, this place has become the preferred location for many music festivals to showcase their concerts. Many of the industry's most respected artists continue to make appearances at Victoria Park, which you wouldn't want to miss.
Did you know that Queen Victoria first opened this music venue in 1871? Talk about iconic! It's easy to see why she was involved in its opening, as this place is the perfect ode to the arts – both musical and architectural. From its distinct terracotta colors to the prominence among other nearby buildings, this place is a hit.
If you fancy a more intimate performance by world famous artists, this is where you'll want to see them. Events at this location range from live orchestras to film screenings, ballets and more.
It's human nature to be drawn to natural beauty, which is likely why Bush Hall continues to draw such massive crowds. This glamorous and glitzy venue was actually a former ballroom that hosted some of the biggest parties. From the decor to the chandeliers, everything screams opulence.
Best of all, Bush Hall continues its high level of sophistication and class with the likes of the musicians who walk its stage. You'll see a number of musical superstars perform here as well as comedy gigs that are sure to make you laugh.
Last but not least is Somerset House, which is as much a concert hall as it is a magnificent building of cultural significance. In fact, the complex is built on the site of a Tudor palace, making it one of London's oldest cultural attractions.
Beyond its cultural significance, this place is also steeped in musical history, with renowned artists performing their latest ballads in the courtyard. The music is gently transported throughout the space.
Now all you have to do is discover these 10 legendary music venues in London!