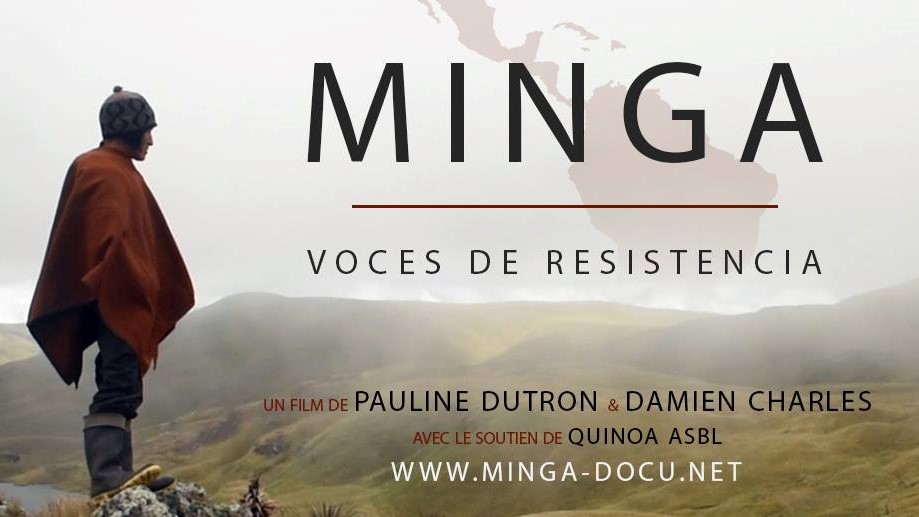 The film has the U.S. Prime Minister, portrays Indigenous struggles
A documentary film that had its U.S. premiere at Kalamazoo College's Arcus Center for Social Justice Leadership shines a light on the struggles of indigenous peoples from Patagonia to Mexico.
Tony Nelson, assistant director of student engagement at the Center for International Programs, hosted the screening last month of Minga: voices of resistance, an international production by Pauline Dutron and Damien Charles. Together, the acclaimed co-directors help expose the destruction of Indigenous territories, shine a light on cultural heritage and show how Indigenous peoples are organizing to inspire solutions.
The film, Nelson said, does an excellent job of raising awareness around two issues: the strategic and systematic violence perpetrated against Indigenous peoples in the Americas and around the world, and the resistance of these peoples, while calling on others in the world to fight against this.
"Sometimes intentionally, and sometimes accidentally, we don't hear enough about people who have been historically and economically marginalized," he said. "The more we can amplify the voices of people who are strategically ignored, censored or silenced, the better, in my opinion. I hope documentaries like this, along with student testimonies, can make these voices louder so more people are aware and more people get involved.
For seven and a half years, Nelson ran a study abroad program in Chiapas, Mexico, where he met the filmmakers.
"They were in San Cristobal for a particular event called the National Indigenous Congress, so I got to meet them when they were staying at my friend's house," he said. "They had traveled from Belgium to the southern tip of Chile and South America by sailboat volunteering to work on the sailboat, then only traveled by bus to Mexico."
Nelson said that while he was skeptical at first about the filmmakers' intentions, he's impressed with the final product.
"I was nervous about them accessing indigenous communities in a way that might seem abusive, but I stayed in touch with them," he said. "They spent a year transcribing all their interviews, then a year translating all the different languages ​​into Spanish and English. I saw the movie and I was like, 'Oh, my God. They really did that. They did an amazing job. They took all of these trips and stayed focused on community voices in a way that centered voices that aren't often amplified.
The film is now available to everyone through a Creative Commons license, allowing it to be screened for free, although it was special to have the premiere at K.
"The film is moving and well done," Nelson said. "Regardless of my involvement or even knowing the filmmakers, I would have spoken to people about it to raise awareness. They are activists in Belgium, and they have a long-term goal of trying to inspire more people to resist and to stand up for what is right.
Co-director Charles, speaking from his home in Belgium, said he wanted to share something important with the world through mingaa film that took over six years from concept to completion.
"When I came into contact with these communities, I saw their perspective," Charles said. "It's not just the idea, 'We have this territory that we depend on and if someone wants to destroy it, we want to defend it.' Of course, they want to defend it, but it goes much deeper than that. It also talks about how the Western world imposes its vision of "development" on communities that have other plans for their diverse societies. deeper goals really stuck with me and made me question a lot of things about our way of life, our society and how we see the world around us. I wanted to share this experience of being in contact with people who actually have a different view of their place in the world. I think being in contact with something so different allows you to understand yourself better.
Nelson hopes many will see the film, understand each other better, and be inspired to act alongside voices that have traditionally been marginalized or silenced.
"In my view, change can only come with serious pushback and pressure," Nelson said. "That's why, I think, they showcase the communities that they are. I hope people take inspiration from this and see that these incredibly suppressed communities have found a way to fight back, to stand up with dignity and stand up for their rights, even if it means taking on a Goliath like Chevron or Coca-Cola. These companies are fighting and threatening the livelihoods of these people; threatening their way of life. If they can fight back, we can certainly fight against the XL Pipeline or the communities that are being blacklisted. There are many struggles we can join to fight the systems that threaten us, our neighbors and our loved ones.