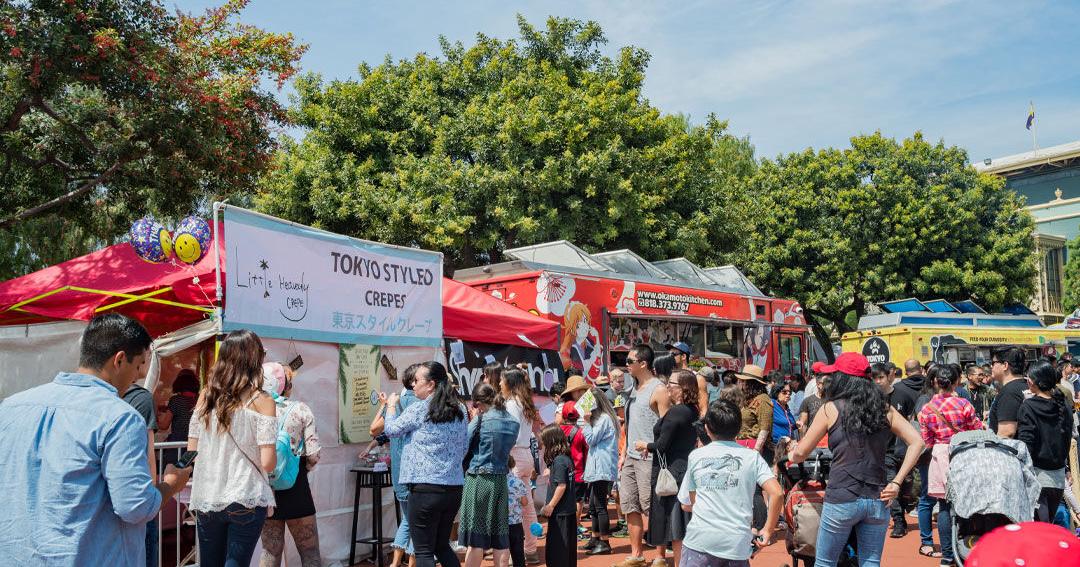 Summer of Fun Venues heat up with performances | Feature Articles
IIf there's anything we've learned from the pandemic, it's that artists are passionate. They continued to play for us, but in a new area: livestreaming.
Now that the pandemic is subsiding, artists are returning to the stages.
Welcome to Pasadena Weekly's summer guide. Take a look here and buy tickets to support the people who lifted our spirits during the pandemic. Here is an excerpt of upcoming shows in the region.
626 Night Market
VARIOUS DATES
Santa Anita Park
285 W. Huntington Drive, Arcadia
The 626 flagship night markets are back at Santa Anita Park. The iconic California festival features over 250 food, merchandise, craft, arts, games, music and entertainment attractions all in one place. The dates for this summer are July 1 to July 3; July 8 to July 10; From August 26 to August 28 and from September 3 to September 5.
Pasadena Pops
LA County Arboretum, 301 N. Baldwin Avenue, Arcadia
VARIOUS DATES
Pops Principal Bandleader Michael Feinstein and the Pasadena Pops recently expanded the Pops Summer Concert Series to six concerts at the Los Angeles County Arboretum.
The six-concert series will run from June 25 to September 10, with a lineup of several award-winning guest artists, including Grammy-winning singer Melissa Manchester, SAG Award winner LaChanze ("The Help"), Tony Tony nominees Yazbeck and Michael Cavanaugh and Tony Award winner Lillias White, plus Michael Feinstein in concert.
"Sway With Me: Latin rhythms and swing!"
JUNE 25
Michel Feinstein, conductor
Mauricio Martinez, soloist
Margo Rey, soloist
"Michael Feinstein sings Gershwin"
JULY 9TH
Larry Blank, conductor
Michael Feinstein, soloist
"Aretha: A Tribute"
JULY 23
Larry Blank, conductor
Capathia Jenkins, soloist
Matthew Johnson, soloist
"American Icons: Judy Garland and Friends"
AUGUST 13
Michel Feinstein, conductor
Melissa Manchester, soloist
Nicole Henry, soloist
Maddie Baillio, soloist
"Michael Cavanaugh sings Billy Joel and Elton John"
AUGUST 27
Larry Blank, conductor
Michael Cavanaugh, soloist
"Broadway at the Movies"
SEVEN. ten
Michel Feinstein, conductor
LaChanze, soloist
Lillias White, soloist
Tony Yazbeck, soloist
The Rose Bowl/Brookside at
pink bowl
1001 Rose Bowl Drive, Pasadena
Foodie Land Los Angeles
JUNE 3 TO JUNE 5
FoodieLand is inspired by the night markets of Asia, with light nighttime sounds, tastes and scents. This festival serves authentic multicultural street food, drinks and desserts. On the grounds, you can also enjoy carnival games, live musical performances and artisans.
AmericaFest
4TH JULY
Rose Bowl Stadium hosts its 96th annual AmericaFest celebration. The event celebrates the country's birthday with patriotic festivities beginning at 7 p.m.
palomino
JULY 9TH
Brookside at the Rose Bowl
The team behind Stagecoach, Goldenvoice presents its first Palomino Festival with Kacey Musgraves, Willie Nelson & Family and Jason Isbell and The 400 Unit headlining. The alt-country festival pushes the boundaries of country, folk, pop and bluegrass.
Rose Bowl Party of the Century
AUGUST 13
Rose Bowl Stadium
Rose Bowl Stadium, in coordination with the Rose Bowl Legacy Foundation, is hosting its 100th anniversary celebration. Alongside the August 13 festivities, it will feature international soccer games, the first major non-soccer event at Rose Bowl Stadium since before the pandemic. The Rose Bowl Party of the Century is expected to be sold out, with a red carpet, live entertainment, fireworks, flyover and celebrity appearances while celebrating America's Stadium's generational moments – all under the lights of the emblematic lawn of the place.
Head in the clouds
AUGUST 20 AND AUGUST. 21
Brookside at the Rose Bowl
Global Asian music and media company, 88rising, in partnership with Goldenvoice, presents Head in the Clouds Music & Arts Festival with a lineup of selected talents like Jackson Wang (Magic Man Experience), NIKI, Rich Brian, Yebi Labs (Joji DJ Set), BIBI, Jay Park and CHUNG HA. This year's festival also includes live performances from mxmtoon, the first joint project by Audrey Nuna + Deb Never, eaJ, ATARASHII GAKKO! and MILL.
It's not a picnic
AUGUST 27 AND AUGUST. 28
Brookside at the Rose Bowl
Goldenvoice brings together six artist stages spanning the genres of indie, hip-hop, dance and underground. August 27 features the title LCD Soundsystem plus a performance by Le Tigre, who reunites after a 12-year hiatus, with a host of others including Jorja Smith, Kaytranada, JUNGLE, Courtney Barnett, Honey Dijon, Yves Tumor, Genesis Owusu and Hana Vu. The Strokes, Pasadena's Phoebe Bridgers and the much-hyped Wet Leg are among those set to take the stage on August 28.
Pasadena Chalk Festival
JUNE 18 TO JUNE 19
300 E. Green Street, Pasadena
The annual Pasadena Chalk Festival at the Paseo features over 600 skilled chalk artists from around the world who will come together to celebrate this unique art form. The festival offers visitors the opportunity to experience art for free in the famous Paseo Square.
Pasadena International Film Festival
FROM JUNE 23 TO JUNE 30
Laemmle Playhouse 7, 673 E. Colorado Boulevard, Pasadena
The festival brings together filmmakers, artists, businesses and the public for nine days filled with entertainment and education. Panels and workshops provide the general public with knowledge and culture, screenings provide entertainment and business is generated as people mingle and mingle after each screening, stopping at boutiques and shops, restaurants and lounges.