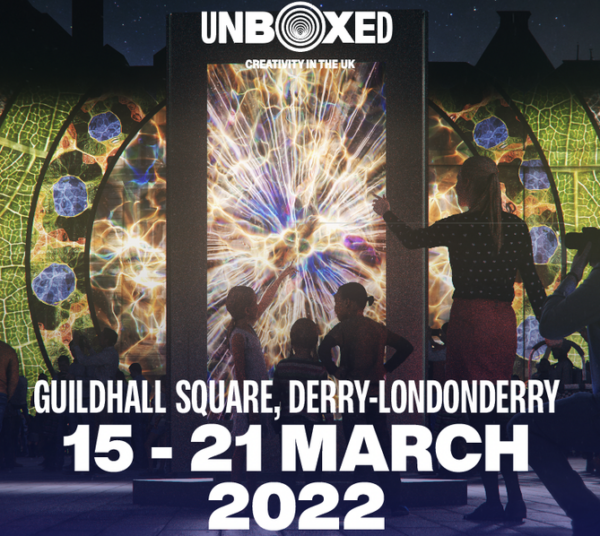 Mayor looks forward to UNBOXED events celebrating creativity – Derry Daily
With the unique and spectacular About Us event taking place in the city this week, the Mayor of Derry City and Strabane Borough Council, Alderman Graham Warke, says it is a an event not to be missed.
About Us will take place at Guildhall Square and Waterloo Place from tomorrow, Tuesday 15th, until Monday 21st March.
Created by 59 Productions, The Poetry Society and Stemettes, About Us is the opening event of the UNBOXED: Creativity in the UK program and will involve sensational screenings detailing nearly 14 billion years of history as well as beautiful music live.
During the day, ephemeral multimedia installations will be open from 10 a.m. to 5 p.m. that will showcase the work and celebrate the creativity of young people in the neighborhood, with poems and animations assembled during workshops that have taken place throughout the neighborhood.
Each evening from 7.30pm, Guildhall Square and Waterloo Place will come alive with projected entertainment, poetry, music and beautiful live choral singing to create a unique spectacle – with performances by Codetta, in association with the City of Derry International Choir Festival.
The city will also host Our Place in Space as part of UNBOXED: Creativity in the UK – an epic scale model of the solar system designed by artist and children's author Oliver Jeffers, incorporating a 10km three-dimensional sculpture trail in NI and Cambridge, an interactive AR app and major learning and event programs.
The Our Place in Space sculpture trail will be open to the public at Bay Road Park and the River Foyle from April 22 to May 22. It is free and accessible to everyone.
Additionally, as part of the program, there will be a Green Space Dark Skies event in the Sperrin Area of ​​Outstanding Natural Beauty on Saturday, June 25.
Gathering at a designated location at dusk, the Lumenators will be guided along trails or waterways carrying smart lights that will allow for digital choreography captured on film, while also being sensitive to the nighttime environment.
To protect these incredible places, the exact locations will only be revealed to Lumenators who have registered to participate.
There will be no spectators, but anyone can participate for free by registering in advance.
Mayor Graham Warke said there is a lot of anticipation with the About Us, Our Place in Space and Green Space Dark Skies events.
"I'm looking forward to the About Us event starting this week, which will complement our Spring Carnival program very well.
"This is an extremely important event and we are delighted to have come to our district.
"About Us and the wider UBOXED program puts our local people at the heart, including our children.
"Through the shows and live music, we will celebrate their creativity and also hear beautiful music from our very own Codetta.
"I have seen the preparations underway in Guildhall Square and Waterloo Place over the past few days and it already looks absolutely amazing and certainly something not to be missed.
"I would like to congratulate 59 Productions, The Poetry Society, Stemettes and everyone involved with About Us for organizing what promises to be an impressive and unique event.
"It's great that we also have the exciting Our Place in Space trail and will be part of the Green Space Dark later this year and I encourage anyone interested in being part of the latter to sign up."
UNBOXED: Creativity in the UK is funded and supported by all four UK governments and is commissioned and delivered in partnership with Belfast City Council, Creative Wales and EventScotland.
About Us is touring the UK in five legs from March to May 2022. All About Us events are open air, free and ticketless, and suitable for audiences of all ages.
Learn more: aboutus.earth
If you want to participate in Green Space Dark Skies, register at: https://greenspacedarkskies.uk/get-involved/
Mayor looks forward to UNBOXED events celebrating creativity was last modified: March 15, 2022 by cassoscoop
Key words: