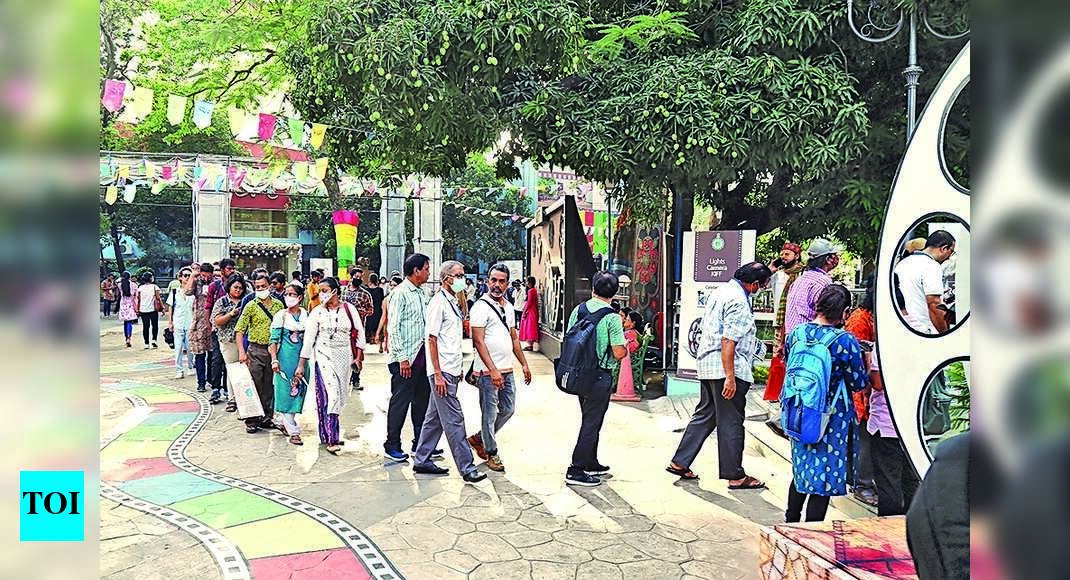 kiff: long queues in Kiff cinemas: the heat fails to discourage moviegoers | Kolkata News
Calcutta: The temperature fluctuated around 37°C. But that couldn't deter moviegoers from waiting outside Chalachchitra Satabarsha Bhavan before the premiere screening of Abhinandan Banerjee's 'Manikbabur Megh' on Tuesday morning. Director Bauddhayan Mukherji, who produced the film with Monalisa Mukherji, had landed in Kolkata from Mumbai and rushed straight to the location. Sweating profusely, he couldn't help but joke that a sequel to "Sonar Kella," all with camels, could soon be shot in town if the temperature rises a few notches.
In the 152-seat auditorium, around fifty spectators showed up for the morning show. The film is in competition for the NETPAC award at KIFF. For viewers, watching the surreal romance between the film's protagonist and a cloud was a pleasant surprise in the heat. "There couldn't have been a better time to screen this film in Kolkata. Although the participation may have been due to the love for AC, I would tend to believe that it was for the love of cinema," said Bauddhayan Mukherji. Director Ranjan Ghosh said, "I was there only because I wanted to see a good movie."
Despite the heat, attendance increased at most sites as the day progressed. Festival President Raj Chakrabarty said, "The attendance at Shoojit Sircar's Satyajit Ray Memorial Lecture at Sisir Mancha was overwhelming. From the afternoon, Nandan 2 (capacity: 165) and Nandan 3 (capacity: 100) saw crowded performances.
The 2 p.m. show saw a full house for Juho Kuosmanen's "Compartment No. 6" which screened at Nandan 1 with a capacity of 931. The charming winner of the 2021 Cannes Film Festival Grand Prix is ​​in international competition at the KIFF this year.
Director Haranath Chakraborty, who entered the show and polled attendance, said, "Not all the films in Nandan that are screened throughout the year attract this crowd. AC comfort is not enough to attract them inside. The people of Kolkata consider KIFF as an annual festival. The heat doesn't matter if the film is good.
Turnout was equally impressive at Gaganendra Pradarshashala where exhibitions honoring Dilip Kumar, Lata Mangeshkar, Sandhya Mukhopadhyay and Bappi Lahiri were held. Director Sudeshna Roy said, "KIFF beat the heat. People all want to go out and see good cinema.