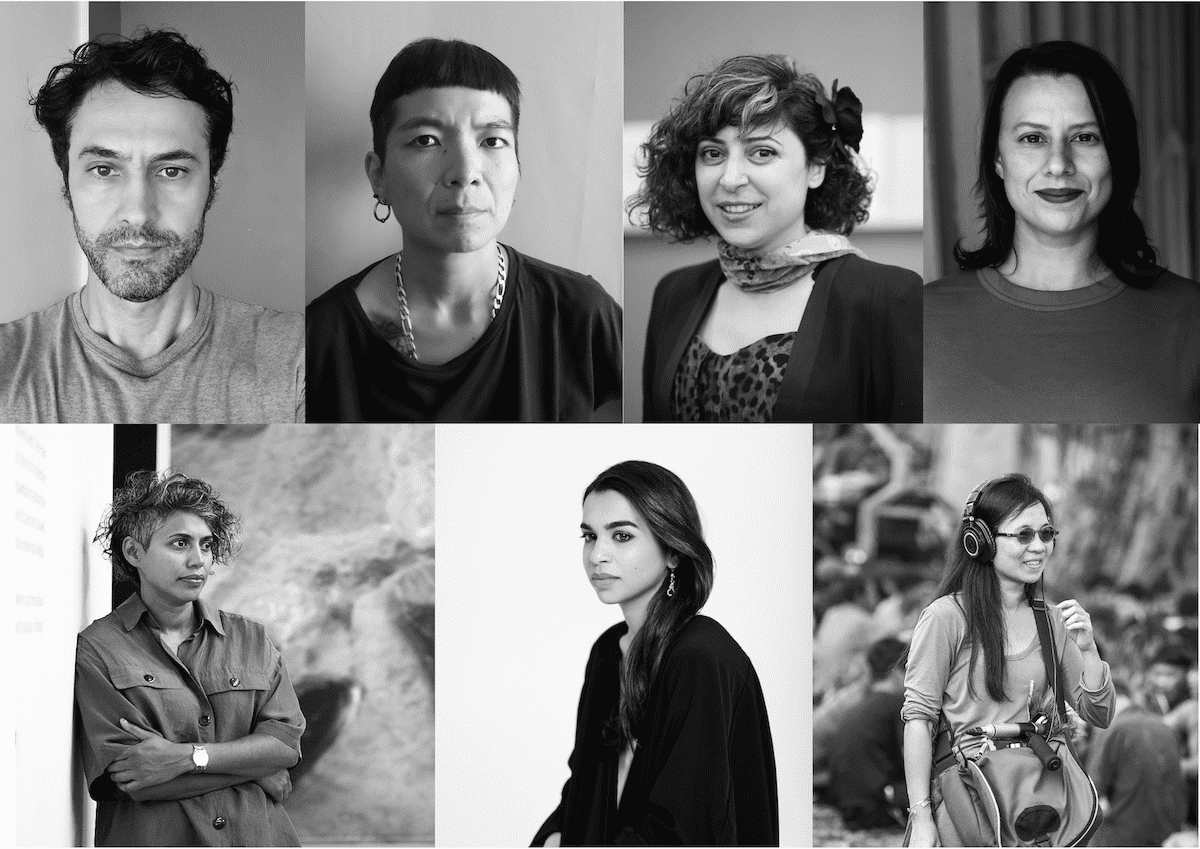 Artes Mundi announces the selection of artists and locations for the 10th anniversary edition
The UK's leading biennial exhibition and international prize for contemporary art, Artes Mundi 10, has announced the shortlist of seven international contemporary visual artists and five national partners for its 10th anniversary.
As an important arbiter of cultural exchange between the UK and international communities, Artes Mundi once again brings together a major biennial exhibition of international contemporary art by some of the most relevant artistic voices dealing with pressing issues of our time.
The artists are: Rushdi Anwar (born in Kurdistan. Lives and works between Thailand and Australia); Carolina Caycedo (born in the United Kingdom of Colombian parents. Lives and works in the United States); Alia Farid (born in Kuwait. Lives and works between Kuwait City and Puerto Rico); Naomi Rincón Gallardo (Born in the United States. Lives and works in Mexico); Taloi Havani (Born in Bougainville, Nakas/ Hakö tribe. Lives and works in Australia); Nguy?n Trinh Thi (born and continues to live and work in Vietnam) and Mounira Al Solh (born in Lebanon. Lives and works in the Netherlands).
Each artist's works will feature in the biennial AM10 exhibition which will run from October 2023 to March 2024 with the winner of the prestigious £40,000 Artes Mundi Prize – the UK's largest contemporary art prize – announced during of the exhibition. For the first time, AM10 will be presented nationally in several venues across Wales. The partners of the site are MOSTYN, Llandudno; Oriel Davies Gallery, Newtown; Glynn Vivian Art Gallery, Swansea; Cardiff National Museum; and Chapter, Cardiff.
Nigel Prince, Director of Artes Mundi, said:
"AM10 will be a defining moment for Artes Mundi. As we simultaneously celebrate the legacy of the past twenty years working with some of the most outstanding artistic voices of recent times, we plan with our national partners to present works from this edition's shortlist that will speak to the pressing issues of our time in the most immediate way.
Previous editions have seen Artes Mundi work with artists at crucial stages in their careers, often being their first introduction to UK audiences, with many figures now established on the world stage including Dineo Seshee Bopape, Prabhakar Pachpute, Ragnar Kjartansson, Theaster Gates, John Akomfrah, Teresa Margolles, Xu Bing and Tania Bruguera.
Juan De Lara, Head of Arts, Bagri Foundation commented:
"We are incredibly delighted to be working with these seven artists to showcase their work in various museums and galleries across Wales. We pride ourselves on our socially responsible program and offering voices from diverse backgrounds a platform to expand and grow their practice. This selection of artists and the timing of this Artes Mundi 10 Exhibition and Prize give us the opportunity to do something truly exceptional together.
ABOUT ARTES MUNDI 10 artesmundi.org
About the artists
Rushdi Anwar is a visual artist, researcher, silent activist, community mobilizer and social equity researcher. Originally from Halabja, Kurdistan (Kurdistan-Iraq), his work often reflects the socio-political issues of Kurdistan, Iraq and the Middle East. He draws on personal experiences and memories, poetically reflecting on contemporary issues of displacement, identity, conflict and trauma suffered under colonial and ideological regimes. He has curated numerous solo and group exhibitions with upcoming exhibitions including: Sharjah Biennale 15: Think historically in the present, (2023); 5th Biennale of Casablanca, Morocco; togetherHeide Museum of Modern Art, Australia; art in conflict, Australian War Memorial, Shepparton Art Museum; The great festival of anxiety, project New Archive Types: Trauma, Knowledge, and Feelings, RMIT Gallery, Australia, (all in 2022). He co-founded and coordinated the Australian Thai Artist Interchange, Melbourne (2012-2016), and currently works at the Faculty of Fine Arts, Chiang Mai University, Thailand.
Caroline Caycedo is a multidisciplinary artist known for her performances, videos, artist books, sculptures and installations that examine environmental and social issues. His work contributes to the construction of environmental historical memory as a fundamental element for the non-repetition of violence against human and non-human entities. She was the 2021-22 Inaugural US Latinx Artist Fellow and the 2020-22 Inaugural Borderlands Fellow at the Center for Imagination in the Borderlands at Arizona State University (ASU) and the New School's Vera List Center for Art and Politics.
Ali Farid (b. 1985) is a filmmaker and sculptor whose practice centers on lesser-known stories that are often intentionally erased. She lives and works in Kuwait and Puerto Rico. She has had recent solo exhibitions at Kunsthalle Basel, Basel (2022); Museum of Contemporary Art of Saint-Louis (CAMSTL), Saint-Louis (2022); Kunstinstituut Melly, Rotterdam (2022); and Portikus, Frankfurt (2019). Recent and upcoming group exhibitions include participation in the Whitney Biennial (2022), Lahore Biennial (2020), Yokohama Triennial (2020), Gwangju Biennial (2019), Theater of operations: the Gulf wars 1991-2001 MoMA PS1 (2019), Sharjah Biennial (2019) and São Paulo Biennial (2016). She has upcoming solo exhibitions at Power Plant Contemporary Art Gallery in Toronto and Chisenhale Gallery in London, all two in 2023.
Naomi Rincon Gallardo is a visual artist and researcher. From a decolonial-leather perspective, his research-driven critical-mythic dreamworld creations address the creation of counter-worlds in neo-colonial contexts. In her work, she incorporates her interests in theatrical games, popular music, Mesoamerican cosmologies, speculative fiction, vernacular parties and crafts, decolonial feminisms, and queer critique of color. She is currently a beneficiary of the Sistema Nacional de Creadores de Arte, FONCA (2019-2022), Mexico. Recent solo and group exhibitions and performance screenings include: 59th La Biennale di Venezia International Art Exhibition (2022); 34th São Paulo Biennial (2021); Una Trilogía de Cuevas (A trilogy of caves)Contemporary Art Museum of Oaxaca (2020); Let your thunder break the sky, Kunstraum Innsbruck (2020); 11th Berlin Biennale, (2020); heavy bloodMuseo Experimental El Eco, Mexico City (2019); opossum resilienceParallel Oaxaca, (2019); Tell the stoneKunstraum Niederösterreich Vienna (2019); In Cuatro Patas Pacific Standard Time. LA, The Broad Museum, LA, (2018); Biennial FEMSA. We were never contemporaries, Zacatecas (2018); The journey to formaldehyde, performance in progress. SFMOMA, San Francisco (2017); Odarodle. An imaginary history of the peoples of nature, 1535-2017Schwules Museum, Berlin (2017) and Biennial of Nicaragua (2016)
Taloi Havini is a multidisciplinary artist using a range of media, including photography, audio-video, sculpture, immersive installation and print. Knowledge production, heritage, cartography and representation in relation to one's homeland in Bougainville are central themes in Havani's work. Major commissions and exhibitions include TBA21 – Academy & Schmidt Ocean Institute, Ocean Space, Venice; Artspace, Sydney; Dhaka Art Summit, Bangladesh; Palace of Tokyo, Paris; Sharjah Biennial 13; 9th Asia-Pacific Triennial of Contemporary Art, QAGOMA, Brisbane: The National, AGNSW, Sydney. His work is in public collections at the Sharjah Art Foundation, Art Gallery of New South Wales (AGNSW), National Gallery of Victoria, KADIST and Queensland Art Gallery (QAGOMA).
Nguy?n Trinh Thi is a filmmaker and artist based in Hanoi. Crossing the boundaries between film and video art, installation and performance, his practice currently explores the power of sound and listening, and the multiple relationships between image, sound and space, with constant interests in history, memory, representation, ecology and the unknown. . Nguyen's works have been featured in international festivals and exhibitions, including the Asia-Pacific Contemporary Art Triennial (APT9) in Brisbane; Sydney Biennial (2018); Jeu de Paume, Paris; the Lyon Biennale (2015); Fukuoka Asian Art Triennial (2014); and Singapore Biennial (2013). In 2022, his multimedia installation, And they die a natural deathis exhibited at documenta fifteen in Kassel, Germany.
Mounira Al Solh is a visual artist who embraces, among other things, video and video installations, painting and drawing, embroidery and performative gestures. Irony and self-reflection are central strategies for her work, which explores feminist issues, follows micro-history patterns, is socially engaged, and can be both political and escapist. In 2008, Al Solh launched NOA Magazine, a performative gesture co-edited with collaborators such as Fadi El Tofeili and Mona Abu Rayyan, and Jacques Aswad (NOA III). She has had solo exhibitions in Mathaf, Qatar (2018); Art Institute of Chicago (2018); ALT, Istanbul (2016); KW Institute for Contemporary Art, Berlin (2014); Center for Contemporary Art, Glasgow (2013); Art in General, New York (2012); and Stedelijk Museum Bureau, Amsterdam (2011). As well as group exhibitions at the Palais de Tokyo, Paris (2020), Van Abbe Museum, Eindhoven (2020), Carré d'Art Museum of Contemporary Art in Nîmes (2018); documenta 14, Athens & Kassel (2017); 56th Venice Biennale (2015); New Museum, New York (2014); Homework, Beirut (2013); House of Arts, Munich (2010); and the 11th Istanbul International Biennale (2009).
Categories
Key words