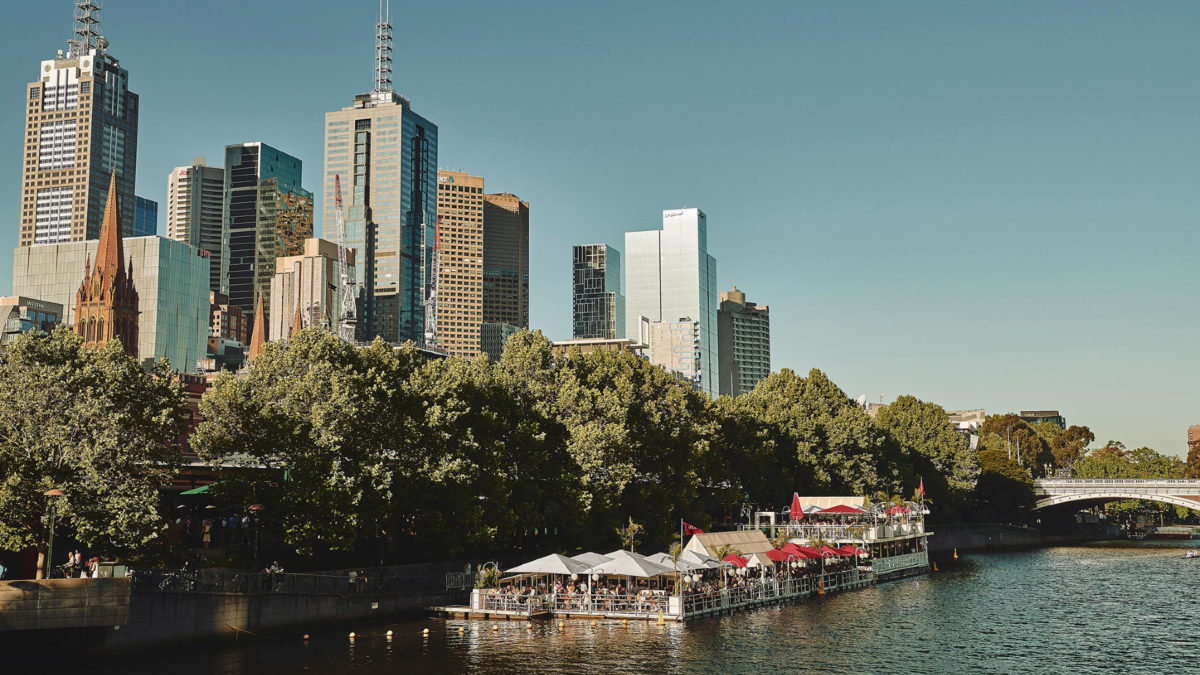 7 events not to forget this summer in Melbourne
[ad_1]
No matter how you spin it, Melbourne has had a pretty terrible run over the past 18 months. However, the city is as resilient as it is enthusiastic about going out this summer, which is understandably the best time of year to take in events in Melbourne. When the city's appetite for amazing new places to eat and drink, marries balmy summer nights, it can't stop it.
This summer features a host of epic events and openings planned to get Melbourne back on track, even with a cheeky discount for midweek bettors. Here are seven events to get around Melbourne this summer to end a tough year in style.
RELATED: The 12 best cocktail bars in Melbourne
---
---
Higher Order x Scott Pickett
The details regarding Higher Order x Scott Pickett are intentionally vague and confusing. But don't let marketing put you off. In essence, it's a 90-minute gallery that mixes fine food, art, theater, and drink. In fact, it's hard to tell the difference between the art on display and the food on offer, which is a five-course Asian-inspired tasting menu by Scott Pickett, of Longrain, Matilda and Estelle.
To quote Pickett on opening night, "expecting something like this when you walk into the street blows you away." It's an event that feels like something straight out of MONA's Dark Mofo program, more than out of Melbourne's CBD. This is the one you won't want to miss, and one that won't be around forever. Higher Order is heating up the site of Beulah's next $ 2 billion project, STH BNK By Beulah, which is set to become Australia's tallest building.
This will set you back a minimum of $ 148 per person, including assorted food and drinks that match each of the organized spaces. Consider this a good deal, as you don't go over a hundred to dine at any of Pickett's other restaurants. Additional drinks are available for purchase, including the first pour of Mountain Distillers' new Red Gum single malt, which won gold at the 2021 International Wine and Spirits Competition (IWSC).
The original event dates are sold out, but you can join the waiting list to get tickets for an extended season planned.
When: 6 p.m. or 8:30 p.m., Wed-Sun November 10 to December 19.
Or: The Attic (Level 5), Hanover House, 158 City Rd Southbank, VIC 3006.
Cost: Wed-Sun general $ 148, Fri-Sat general $ 168, VIP $ 198.
GNV on Friday evenings
If you want to win the title of Date King (and dethrone our very own Johnny Mac), tickets to the NGV Friday Night ft. Gabrielle Chanel are an absolute must. There's even a staycation promotion in partnership with the newly renovated Hilton Melbourne Little Queen Street, to seal the deal.
The exhibit comes directly from the Palais Galliera in Paris, and after-hours access can be enjoyed alongside local DJs, French-inspired snacks, and elite bar setups by Four Pillars Gin, Yering Station and Pommery Champagne. Basically, there's enough distraction for you to fake your interest in legendary Coco Chanel clothing, jewelry, and accessories while still earning some serious brownie points.
Be sure to check out the full five-month program, as every Friday a different local DJ features pop, soul, disco house, and funk. Join DJ Jimmy James, IN2Stellar, Afrodisiac, Hot Wax Sound System and more for a boogie in the garden or on the ground floor of the museum. If you are traveling solo, take a companion as this is sure to be one of the funniest events on the summer calendar.
When: Timed sessions from 6 p.m. to 10 p.m., from December 10 to April 22.
Or: National Gallery of Victoria, 180 St Kilda Road, Melbourne VIC 3006.
Cost: $ 35.
Arbory ​​afloat canals the turkish riviera
Arbory ​​Afloat is back for its limited summer season, requisitioning the best real estate in the CBD. After five successful years, the people of Melbourne know that boarding the Arbory ​​Afloat guarantees you a good time. This interpretation has been absolutely fascinating since its inception.
This summer's design, menu and drinks are inspired by where you prefer to be… The Turkish Riviera. Two bars offer eight different cocktails on tap, including a biting Turkish delight, with Tanqueray gin, Vedrenne rose liqueur, Maidenii x Arbory ​​rose vermouth, Morello cherry, lemon juice, Aquafaba and of Davidson's plum.
---
---
Menu items that stand out include king butterfly prawns in falafel crumbs, enjoyed solo or on Karides pizza, with herb salsa, Tulum cheese and isot biber, a Turkish chili. dried to smoky taste.
The rooftop pool is expected to be launched imminently once restrictions are relaxed, making it the ultimate Mediterranean beach club. There's a stack of DJ sets and live parties on the calendar, including the Four Pillars Pink Gin launch party on Thursday, November 25, and New Years and NYD parties.
When: 11 a.m. – 1 a.m. from Monday to Sunday
Or: 2 Flinders Walk, Melbourne VIC 3000
Skyfall in concert with the MSO
Skyfall in concert with the MSO
Make sure you see No time to die before December 8, because once you experience some Bond film music performed live by the Melbourne Symphony Orchestra, it is no longer possible to return to the plebs' course in the cinema.
The eighty strong MSOs will bring Fall from the sky (2012) and Thomas Newman's backing sheet come to life for just one night at the Sidney Myer Music Bowl. And you are in for a multi-sensory delight. To refresh your memory, Fall from the sky was nominated in 2013 for Best Original Music at the Oscars, and The Haunting of Adele and Paul Epworth Fall from the sky won best original song of the night.
And you guys are in good hands. Nicholas Buc, the conductor of the MSO, brought other franchises to life in concert, including Bond's Casino Royale, Star Wars Episodes IV, V and VII, Back to the Future and Jurassic Park. Prepare yourself because the show will take place in rain, hail or sun.
When: 7:30 p.m. Wednesday December 8, 2021.
Or: Sidney Myer music bowl.
Cost: $ 74 to $ 144.
URBNSRF Outdoor Cinema Series
If he hadn't already ticked all the boxes as the ultimate day… URBNSRF has added an outdoor cinema series to its impressive summer lineup.
Now you can melt into an ottoman after a long day of barrels for Friday and Saturday night movie screenings. The movies are all based on surfing, naturally, and you can watch classics like Point Break alongside nighttime lagoon surfing.
---
---
Tickets get you a reserved beanbag and access to a private lounge from 2 p.m., with live music and DJs from 6 p.m. Stock up on take-out from the Three Blue Ducks and cold drinks from Gage Road Brewing Co before settling into the screening starting at 8:30 p.m.
If you haven't made it to URBNSRF yet, this is a hell of a way to experience it. Block off your entire Friday or Saturday for a very out of Melbourne experience.
When: From 2 p.m., November 26 + 27, December 3 + 4, December 10 + 11.
Or: URBNSURF Tullamarine, 309 Melrose Drive, Tullamarine, VIC 3043
Cost: General admission tickets $ 30, members $ 20.
The ephemeral Exchange beach club
The Exchange Hotel in Port Melbourne has relaunched its pop-up beach club, seven days a week until the end of January. It might seem like a forgotten part of town, but the $ 2 oysters on Tuesdays and the daily $ 6 midweek happy hours are worth being on your radar. It's the perfect way to finish a run or cycle along the Port Melbourne Beach Track.
There is a mix of VIP cabanas, day beds, picnic tables, and lounges for your two and four-legged companions. If Melbourne offers exceptional weather on a Sunday, Exchange will match it with a $ 60 bottomless brunch package on Sunday. Gather your friends for a Sunday session featuring lobster and shrimp rolls or Wagyu sliders accompanied by live music.
When: From November 6 to January 30, Monday to Wednesday 4 p.m. to 10 p.m., Thursday to Friday 12 p.m. to 10 p.m., Saturday to Sunday 10 a.m. to 10 p.m.
Or: Port Melbourne dog beach
Cost: Free or VIP Cabana for 2 to 4 of your friends with a minimum of $ 200 spending Sunday through Thursday from 6 p.m. and $ 400 Friday through Sunday until 6 p.m.
The Nike Melbourne Marathon Festival
Registration closes this Sunday, November 21 for the Nike Melbourne Marathon Festival. So if you had a buddy you wanted to sign up for the big ball, you better hurry.
Five races will take place on the second weekend of December. The 3k, 5k and 10k events end on Saturday, and the half marathon and full marathon events fill up on Sunday. All distances end with a coveted MCG lap, guaranteeing every runner great humility for the gram, regardless of ability level.
---
---
When: Saturday 11 and Sunday 12 December.
Or: The Saturday departure is at the Yarra Park Path, parallel to the Jolimont station. The Sunday departure point is on Batman Avenue, approximately 150m north of the Rod Laver Arena
Cost: Free up to $ 165
[ad_2]